Since 2012, ALLY Property Inspections has been the inspector of choice for real estate brokers and agents in Atlanta, GA, and Birmingham, AL. We specialize in reducing the anxiety that can be associated with the home purchase process. Knowing that your home has been thoroughly inspected by a highly trained professional provides important peace of mind. You can rest easy knowing that your investment is sound and, more importantly, you are moving into a safe and healthy environment.
ALLY serves areas in Alabama and Georgia with full-service, comprehensive home inspections. In Alabama, we cover the Birmingham metro area and surrounding counties, Huntsville and Montgomery. In Georgia, our service area includes Atlanta and the surrounding counties. Learn More…
Learn more about our services and how we can be your ALLY for property inspections, maintenance inspections, and home safety!
Check out our FREE online ALLY At Home course-BEFORE YOU BUY! Complete the course to earn discounts on full home inspections.
THE
ALLY

HOME
INSPECTION PROCESS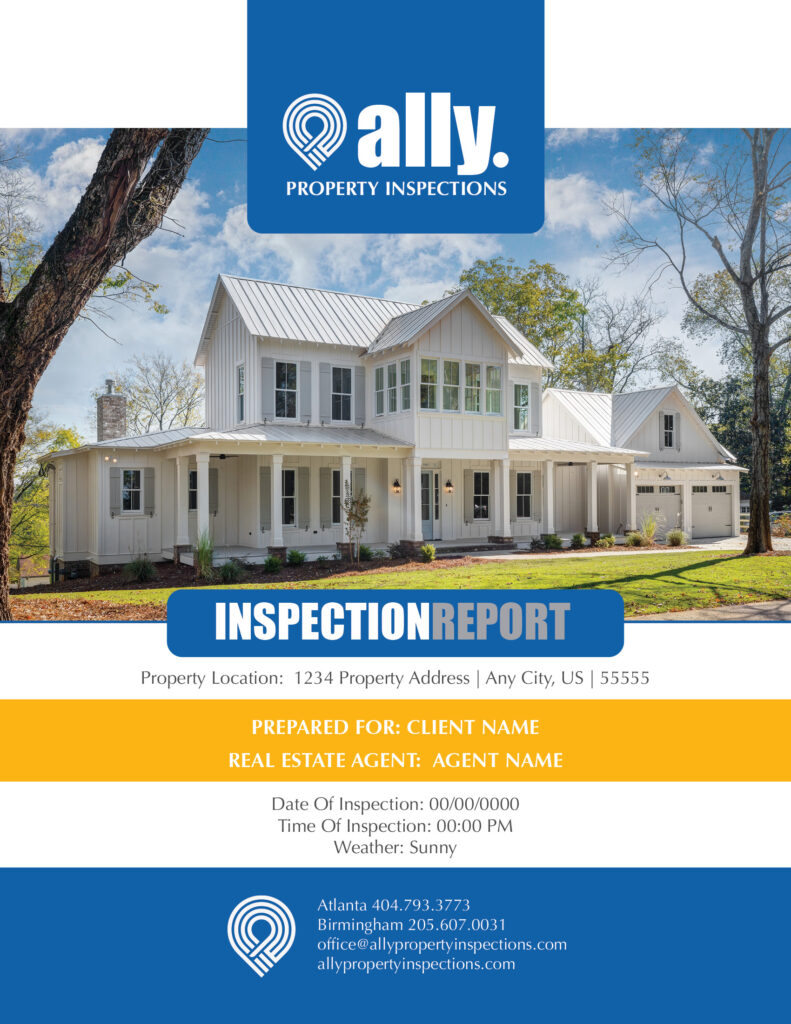 Our inspection reports provide a comprehensive evaluation of a property's major systems and components, such as the roof, foundation, plumbing, electrical, HVAC, and appliances.
Our inspectors also assess the condition of the interior and exterior, including walls, ceilings, floors, doors, and windows.
We include photographs, descriptions, and recommendations for any necessary repairs or maintenance.
And ALLY provides our FREE Repair Pricer with every full inspection we perform! Learn more about the advantages of Repair Pricer.
We Offer Bilingual Inspections in Alabama!
We have a large Spanish-speaking community in Alabama, and we're happy to be able to assist them with their property inspection needs.
The ALLY Client Experience
As an Ally Property Inspection Client, your experience is top of mind. We will communicate with you before, during, and after to make sure you have all of the information you need for your inspection. We also provide FREE re-inspections so that there is never a question if we missed anything in our services.
INSPECTIONS IN ATLANTA & BIRMINGHAM IN 2022
Stan was amazing!! Very professional and gracious to spend so much time explaining details of his inspection. HIGHLY recommend asking for Stan.
Stan explained to my husband in detail all the tests and findings. He spent a lot of time with him explaining and answering all his questions. He went above & beyond his job to make us comfortable in purchasing our new home. Thanks Stan!
Chris gets 5 stars! He's an excellent communicator! His personality is off the charts! It was as if we've known each other for years! He was very professional and responsive! Great job Chris!!
Very quick and professional, mostly everything done in one day just had to get a mold inspection, which was turned in the next night!! And Matt was very sweet and informative
GREAT communication! I love their reports too, so organized and informative. They have done two reports for me in the past month and they really do a great job at inspecting (and finding).
Angelique Mitchell
2023-06-09
The home inspector, Matt, showed up on a holiday and conducted a very thorough investigation of the property. He provided his initial findings immediately after he finished and we received the formal report with clear photos and links to additional information for each issue.I am very happy with Ally and in particular, the inspector Matt.